I Don't Know, but I Have You!
Joined

Aug 5, 2018
Location
Favourite title

Shenmue II
Currently playing

Lost Judgment (PS4)
PSN

Truck_1_0_1_
Steam

Truck_1_0_1_
Given that it was my bday weekend, I did no cooking (well, I made some bacon and egg sandwiches for my wife and I on Saturday, but that was it; all of 10 minutes cooking lol), but I do have something my dad made yesterday (his bday was the 9th, so we had a communal day) and the cake that my wife made for me!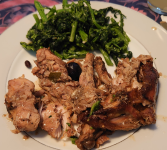 Roasted rabbit in oil, with herbs and black olives. This is how they make it in Liguria (Italian Riviera, which borders the French Riviera), save for the missing Pine Nuts (my father is allergic and can't have them). I've also eaten rabbit this way, practically my whole life and it is delicious, very little fat and rabbit is the only meat that your body digests 100% no waste! Rapini, panfried with olive oil and garlic, accompanied it.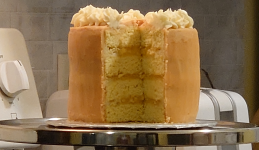 My cake, that my wife made completely from scratch for me! Plain vanilla sponge, with buttercream and orange curd.
She made the cakes on Thursday, the icing and curd on Friday and assembled it then. The buttercream she made from scratch as well and it was much better than anything in a store! (the best buttercream I've ever had is what my old boss used to make; it was insanely-delicious, but I'm not a huge fan of buttercream, all being said)
I'll be cooking up some dishes this week and weekend, some I'm excited for