Joined

Oct 27, 2019
Favourite title

Shenmue
Currently playing

Virtua Fighter 5 Ultimate Showdown (PS4)
I have a feeling that in this scene Shenhua used a ocular power, maybe similar to sharingan in the anime Naruto. I say this because in that scene the focus was more on Shenhua's eyes.

Interesting to notice the sound effect in this scene, it is not a sound effect of a humor scene in my opinion, that part with Shenhua's eyes have a different feeling.

We don't know how many powers Shenhua have, and i think the power she used on him is a power that Yu Suzuki wants to reveal only in Shenmue IV or V.


After what happened Yanlang was like this, it looks like he didn't want to look at Shenhua.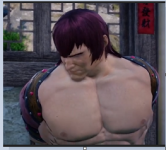 If she really have a power in her eyes then i think she made him see something really terrible, maybe when Yanlang looked at Shenhua's eyes she used her ocular power and maybe he saw his deepest fears or something like this, it was not something she liked to do, was just to get the informations and end this bad situation quickly.

I played the game with japanese audio and this all my thoughts about this scene.
Last edited: