Not even two damn hours in and the game is already trying to make me cry. Kiryu is such a good boy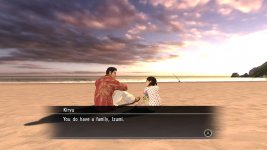 Anyways right off the bat I'm already liking this about a million times more than Kiwami 2. The story so far is way more interesting, I love love LOVE the beach setting, and the combat feels so damn punchy. I definitely like it more than Kiwami 2's combat (which was still good imo, just not as good), and I'm probably just being retarded here but... I think it feels even more responsive than 0/Kiwami 1? Idk, maybe it's just been too long since I played either of those, but I can't wait to beat some more baddies up.
Alright played a couple of minutes Y3

Damn graphics really are ps3-ish, I thought it'd be more like Y0
They definitely are, I had to laugh at some of the crazy eyes a couple of the character models get.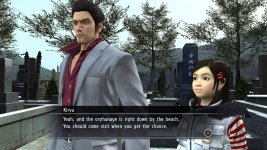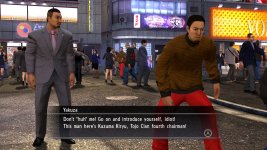 The environments hold up super well though, I wasn't expecting that. Textures all around are just really nice. It also helps that the game has so many grafx customization options under "Advanced". Turned off FXAA, SSAO, increased that sharpness setting, turned shadows to lowest (just me being autistic thinking it looks better this way for some reason), and cranked the brightness. Sharp enough to cut your dang eyeballs on, just the way I like it.