このまま・・・時間が止まるといい
Site Staff
Joined

Oct 27, 2019
Favourite title

Shenmue
Currently playing

Crash Bandicoot N. Sane Trilogy (PS4)
Now is time for the beloved Dreamcast, home of the masterpiece series Shenmue.


This custom Shenmue Dreamcast is so beautiful.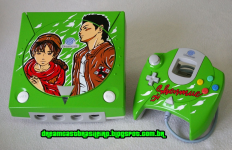 On November 27, 1998, SEGA released the Dreamcast, SEGA'S last console, in Japan. The Dreamcast was priced competitively, in part due to the use of off-the-shelf components, but also featured the technology that enabled gaming technically more impressive than its direct competitors, the Nintendo 64 and PlayStation.

A 56k analog modem was also included, allowing for online multiplayer. It featured titles such as the action-puzzle title ChuChu Rocket!, Phantasy Star Online, the first console-based MMORPG, Quake III Arena, and Alien Front Online, the first console game with online voice chat.

The Dreamcast is home to several innovative and critically acclaimed games of the time, including one of the early cel-shaded titles, Jet Set Radio (Jet Grind radio in North America); Seaman, a game that involves communicating with a crappie creature through the microphone; Samba de Amigo, a rhythm game involving the use of maracas, and Shenmue, a game with free play and a detailed in-game city.

Faced with debt and competition from Sony, Nintendo and Microsoft, SEGA halted production of the Dreamcast consoles in 2001. The last game SEGA released for Dreamcast was Puyo Pop Fever in 2004.


I have Dreamcast and is one of my favorite consoles, i love the design of the console, i love the controller, the VMU and much more.

The Dreamcast community is amazing in my opinion, always thinking about how to continue to make the Dreamcast alive with online for PSO and other games, things to improve the experience, new games and much more, it is so beautiful and amazing.

You have Dreamcast? you have favorite games and dearest memories because of this console?

The thread to talk everything about Dreamcast, thank you.