Joined

Oct 11, 2018
Location
One small improvement: added some axis helpers to the viewport to make it easier to track forward, back, left, right, to act as a reference for working with the lookup between motn and mt5 bone numbers.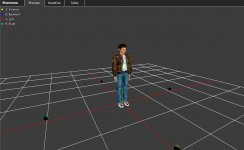 And then we run into a problem with interpolation.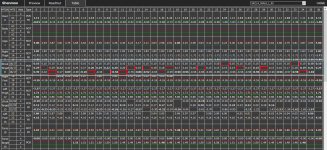 I started to fill in the table with linear interpolation to be able to fill in the table and not worry too much about the easing functions while we're working with debugging. The problem is that I'm an idiot and the table is missing some values that should be there, so I need to figure out what's causing that inside my function.
But a little bit of a bigger problem is that not every value has a first frame and end frame value, which kind of leaves what goes in between there up to interpretation. I tried to look at a few other animations, only to find that my animation parsing function breaks on a lot of animation, specifically around block 4. So to be able to contrast with other animations, I should probably take some more animation samples, and trace through them. That should give some other animations to compare with to see how the data is laid out in the table.