Joined

Oct 27, 2019
Favourite title

Shenmue
Currently playing

Virtua Fighter 5 Ultimate Showdown (PS4)
On TeamYu.net i found that someone in 2014 was creating a Shenmue Fighting Game.

The person said this...

(Concept art screenshot.)
I'm very seriously toying with the idea of making what you see in this picture. A Shenmue themed Street Fighter II style game, with a massive cast of Shenmue characters (some unlockable), and iconic locations from both games.
This is very achievable using Mugen fighter maker (the project would be called Shenmugen), simply by ripping screenshots from the games in order to create sprite sheets for each character. The moves could then be programmed to emulate real controls from Shenmue (-> -> punch for elbow assault, etc).
It's all fairly easy, but it requires a ton of sprite ripping. So if you feel like lending a hand with this, let me know (you'd need nullDC or another emulator working on your PC). For the rest of you, please tell me what / who you'd like to see in this game!

Project updates:
Work has only just started, but we're still very open to the idea of more people helping.

We've created a cdi disc image for Shenmue which lets you train on a plain pink background. This makes ripping sprites so much faster. If you're interested in helping gather sprites, I can upload this cdi for people to download and use on emulators.

We're currently in talks about which engine / style would be best; Mugen (Virtua Fighter) or OpenBoR (Streets of Rage). Please see the second post for details. Feel free to chime in.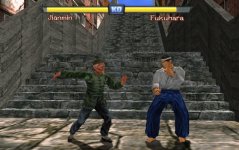 The post of the person was in 2014, anyone knows if this game is complete and playable? maybe the person didn't finish the game, i don't know.

Anyone interested in this project? anyone interested in seeing a Shenmue fighting game aswell? we can talk about this here. In my opinion a Shenmue Fighting game is a beautiful idea, we can put so many characters and locations, thank you.