Joined

Jul 27, 2018
Location
Hi Pals. Long time.
Using some tools made by fellow community members here, I have been spending time exploring Shenmue 3 looking for secrets.
Just today I came across something interesting that I wanted to share and propose to the community.
While exploring Lan Di's room, I noticed that there is a texture in game that resembles the Dragon Mirror but from a different angle. I don't feel this is an "alternate" Dragon Mirror design left unused as it is pretty detailed and kinda spooky actually. It can be found in game on the ceiling of Lan Di's room.
Here is the texture: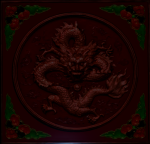 Now when I saw this, I thought hmmm that looks really familiar. So I did some digging on the internet and through some of my books surrounding the Qin Dynasty, Terracotta, and the War of the 3 Kingdoms in Chinese History. I came across an art that I'm sure some of you interested in this stuff may have seen before.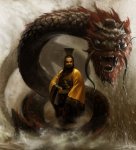 This is an art of Qin Shi Huang and his "War Dragon".
Qin Shi Huang is important because he was the founder of the Qin Dynasty.
He is also the man responsible for ordering the creation of the Terracotta Army Statues with the proposed aim to protect him in the Heavens.
So, this Dragon in the photo led me to believe that maybe there is some sort of influence of it in the story so I began digging into the different types of Chinese Dragons and in my research I found out about "Tianlong".
By definition:
Tianlong
, the Celestial Dragons, are the celestial dragons who pull the chariots of the gods and guard their palaces.
I was like hmmmm, ok so maybe there is something here. So while looking up art of Tianlong, I came across the following and I was stunned.
(Source:
http://www.chinabuddhismencyclopedia.com/en/index.php?title=File:12jan_dragon.jpg
)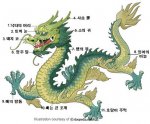 This looks familiar doesn't it?
(Screenshot of the Dragon Mirror from my recent YT Video)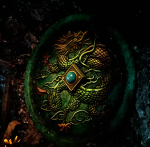 (Flipped to match the orientation of that art)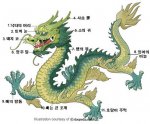 I feel the resemblance is quite significant. This likely then means that the Dragon Mirror depicts a Tianlong Dragon.
So does this then mean that this is a heavenly dragon?
I bet you Shenmue's later story may involve "Heavenly Beings" and The Dragon in the mirror is set to guard those leaders. Maybe Tentei wants the mirrors to summon these beasts to conquer the Heavens? Just like Qin Shi Huang wanted to in actual history.
Keep in mind that Tentei is literally the "Heavenly Leader" of the Chi You Men.
Thoughts?
(This theory may have some issues here and there but I feel looking into these things will unlock elements of the later story.
Many fans choose to believe that Shenmue is grounded entirely in our reality... however, I feel they are wrong and the story becomes pretty divine.
Let's revisit this thread 20 years from now and see if this claim is absolutely wrong lol or if there was some truth to it.)
Love you all! Thanks for reading my babbling.
/james