Joined

Jul 30, 2018
Location
Copy/paste from the old forums ftw!
(Expect new content very soon!)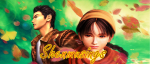 http://shenmusings.wordpress.com
Hi all! I've recently started my own Shenmue blog. I am intending this blog to be my space to share my thoughts, reflections, trivia and little known facts about the series - writing is the other passion I have in life, and I have wanted to somehow combine these passions for a long time now, hence Shenmusings. Some posts will get into my own personal history of the series, and of course my experiences with this very forum.
I hope you find the blog informative and enlightening to read - here are all of the posts I have made so far:
Discovering Shenmue (Part 1 of 2)
Discovering Shenmue (Part 2 of 2)
The Shenmue II Character Database
Antiquity Trees and Flower Girls: Symbolism in Shenmue (Part 1 of 2)
Antiquity Trees and Flower Girls: Symbolism in Shenmue (Part 2 of 2)
Men in Black Mix Up
The Phantom Teahouse Lady (And Other Devious Guidebook Lies)
Mundane Over Magic? (Shenmue III Ending Analysis)
A Tangled Web of (Blue) Spiders
LATEST POST:
Naming Red Snakes
Also, keep up to date via the Shenmusings Facebook and Twitter pages:
Facebook
Twitter
Last edited: