このまま・・・時間が止まるといい
Site Staff
Joined

Oct 27, 2019
Favourite title

Shenmue
Currently playing

Shenmue III (PS4)
I have a feeling for some time that Yu Suzuki will decide to end Shenmue in Shenmue V for PS5 and PC. In this thread i will
talk about this, and i'm going to talk about that for me Shenmue was never meant to be a series of games with a fast pace and fast
progression in the story.

It is difficult for Yu Suzuki to have the opportunity to make the remaining games and finish the saga. I don't agree when i see
people saying that Ryo should have defeated Lan Di in Shenmue III or hit him, some people even thought Shenmue III would be the
ending of the story.

As i said in my other thread Shenmue for me is not just about Ryo wanting to kill Lan Di, Shenmue for me it is about Ryo's Journey, it
is about the people he meet and what he learns from them, it is about Ryo growing as a martial artist and as a character, it is about
Ryo trying to find a path in his life, what it is the most important is not the destination, what is the most important is the journey.

Ryo couldn't defeat Lan Di or hit him but he showed that he improved a bit and I love this, this was the first real battle with Lan Di
so i love that this battle happened this way, i love that Ryo is growing little by little, and this way when he defeat Lan Di in a battle
the moment for me will be more emotional and beautiful. I think Ryo will not kill Lan Di but he will win a fight against Lan Di, and
i think he will forget about revenge.

In my opinion Shenmue was never meant to be a fast-paced story. One time Yu Suzuki said... "If I continued to do a chapter
per game i would not complete Shenmue in my lifetime." For me this means that his original idea was to make 11 games or maybe
even more, one chapter and one location per game.

First chapter in Yokosuka, one chapter in a boat, one chapter in Hong Kong/Kowloon, one chapter in a train, one chapter only
in Guilin, one chapter in Niaowu and so on... Yu Suzuki only did like this with the first game. Baisha looks really unique and
beautiful, he even had to cut Baisha in Shenmue III.


As a creator myself i think this is really sad, Shenmue is inspiring me to create a story with a Shenmue feel and vibe, i I don't
want to cut things in my story, i I don't want to compromise my vision, i don't want to make my story fast pace all the time and
cut a lot of things just to finish quickly, so i think is really sad what happened with Yu Suzuki.

I love that Shenmue III have a slow pace and i can really feel Bailu Village and Ryo getting to know more Shenhua and
strengthening the bond with her, it is beautiful and peaceful to me. I don't have problems with slow pace in games, i love
this type of games, and as i said in my other thread, i really think that if Shenmue III had been released for Dreamcast or
Playstation 2 more people would have been more accepted with the slow pace and the story that didn't progress a lot like
Shenmue II did,

Yu Suzuki is 62 years old, I really don't know if in a few years he will retire or if he will continue to make games. i understand
when people say that they waited 18 years so they want to see the story advance more fast and see the ending but in my
opinion Shenmue is more a slow pace story.

Shenmue is not popular so is hard for Yu Suzuki to make more games, It is really hard for Yu Suzuki to have opportunities to make
more Shenmue games so i think in this case will be better if Yu Suzuki decides to end in Shenmue V, the end in Shenmue IV will feel
really rushed, in my opinion will be better to end in Shenmue V, after that if he wants he can release the original Akira books/scripts
for the fans, and in the anime Yu Suzuki and the anime team can try to put things that were cut in the games.

Maybe he can make the reamining chapters in a "Life is Strange" episodes style, or maybe episodes style like CAPCOM did with Resident Evil Revelations 2, releasing the episodes/chapters little by little, I'm saying this because maybe that's more cheaper to make, I will have no problems with this style.

@ShenSun even made a theory about this, that Shenmue will end in Shenmue V and i agree with this theory.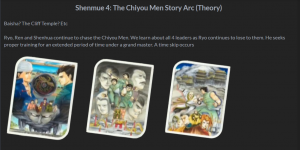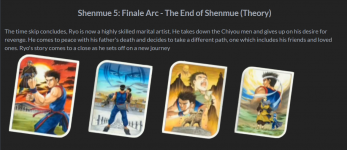 if the story continue like in this theory i will enjoy a lot and i think this way the Shenmue saga will end in a nice way.

What do you think about all of this? what will be the best way to end the saga? for me in this case the best way will be to end in Shenmue V. In my opinion talking about the future of Shenmue is a interesting subject, thank you.

UPDATE: I saw that in the poll i put "Shenmue VII or beyond" but it was a mistake, i wanted to put "Shenmue VI or
beyond." There is no way to edit this, it will be like this then.
Last edited: