Joined

Jul 27, 2018
Location
Currently playing

Shenmue II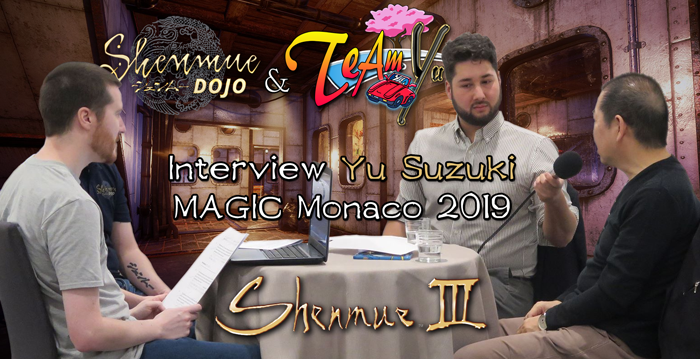 March 2019 saw Shenmue III co-producer Cédric Biscay and his company Shibuya Productions host their fifth annual
MAGIC Monaco
event in Monte Carlo. A coming together of manga, anime, gaming, and global entertainment stars, MAGIC offers fans the chance to connect with their favorite creators through autograph sessions and dedicated conferences.
But 24 hours before Yu Suzuki was due on stage at the Grimaldi Forum to unveil a brand new
trailer for Shenmue III
, the legendary game designer was holed up in a meeting room at his nearby hotel, granting interviews to a procession of representatives from the online fan community.
Such a rare level of direct interaction between developer and fan base has become a tradition for Suzuki-san this decade, beginning with the French crew at
Shenmue Master
back in 2011. It was with their generous assistance that Shenmue Dojo and Team Yu were able to conduct Suzuki's
first interview
with the English-speaking fan community at MAGIC 2016, and this month Peter and James reunited to find out just what had changed in those three years of development on gaming's most anticipated sequel.
With just five months remaining until Shenmue III's August 27th release, we first of all wanted to know how Yu-san is feeling.
In Japanese relayed to us first by live interpreter Kenji (happily also returning from 2016) and later translated with more labored precision by Switch of
Phantom River Stone
(with the advantage of pausing and replaying our audio recording), Suzuki told us, "My sincere wish from the start is for the development to go smoothly, and for a successful release."
But how smooth has it been? In 2016 he told us of initial teething problems in finding Japanese staff who were versed in using Unreal Engine 4, due to so much of its documentation being available only in English. By the time of that conversation they had already overcome this recruitment challenge, but three years later we were curious about the differences he and his team had now encountered in developing a Shenmue game using modern day technology.
"To take one example, it has become easier to use a weather system," he began, "Also the software libraries that are commonly used by RPGs and other games are now quite comprehensive and easy to use, I think. In addition, the engine has various analysis functions. So when there's a bug, it's easier to analyze where the problem lies."
This may explain why transitioning weather effects were among the features shown off as early as MAGIC 2016, when the first new footage of the game was shown since development began. What had been a groundbreaking advancement on the Dreamcast in 1999 is now more readily attainable in Unreal Engine 4.
"On the other hand," he went on, "It is something of a 'black box': when you want to tune the really fine parts, you need a lot of knowledge to do so. So it can be a bit tricky in places. Although that's outweighed by its ease of use elsewhere. As you'd expect, it's a different game creation process, compared to before."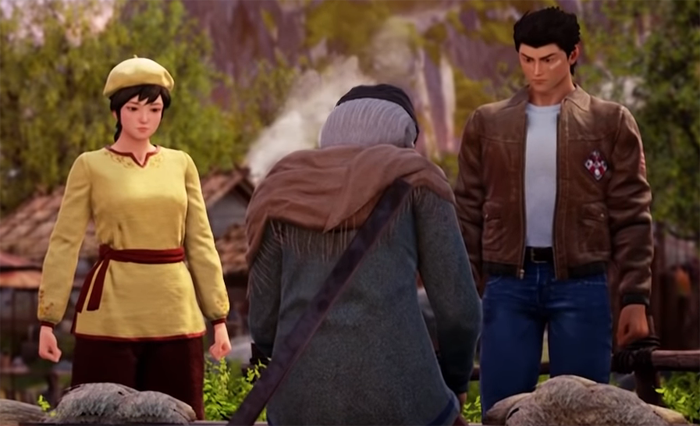 Ryo will need all of his trademark charm to win over the locals in Shenhua's village.
​
Of course it's not only the tools and methods of making the game that have evolved, but also the game itself, with familiar activities supplemented with local jobs that Ryo will encounter for the first time on his quest.
"In Shenmue III there are several types of part-time job," Suzuki confirmed, "The most basic one will be wood-chopping. As you get better at it, you'll be able to split a lot of wood in a short amount of time. It's really simple, but also quite fun.
"Other jobs are ones like fishing. You can hire fishing equipment, such as a rod and lure. Then you look for somewhere you can fish. Once you arrive at your chosen spot, you cast your line and try to figure out where the fish are biting. The fishmonger will buy the fish you catch from you."
It's somewhat ironic that last year's Red Dead Redemption 2 drew comparisons with the recently re-released Shenmue I & II, partly for its inclusion of mundane chores, and now Shenmue III is about to launch with two of the same mini-games as Rockstar's cowboy sim.
And like Arthur Morgan, John Marston, Trevor Philips and Tommy Vercetti, there's been evidence that Ryo and his co-star Shenhua have finally learned how to remove clothes from their hangers and change outfits.
When we first spoke with Suzuki in 2016, the team hadn't yet begun testing the dynamic of customizing a character's threads, but he said he wanted to at least achieve that for Ryo. This year, he was able to answer with more certainty.
"It's chiefly Ryo who will be able to change clothes," he said, "When I tried out the clothes-changing system, it's actually pretty fun, more so than I had expected. Making him wear strange clothes is amusing! I've never really played round with it in games before, so it's probably something that's fun in other games too, but when Ryo wears strange clothes, it's hilarious! Especially when he wears something that's really unstylish."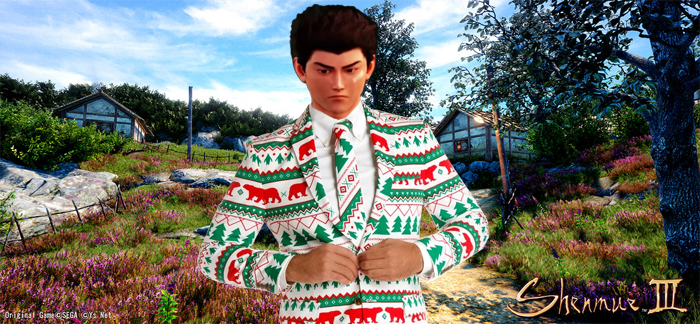 Our own impression of how Ryo might look in "unstylish" gear.
​
Regarding Shenhua, we knew from our first interview that Suzuki was keen to create new designs for her attire, even hoping to work with an actual clothes designer. Anyone who's seen recent screenshots of the Chinese heroine is aware that she has indeed been treated to a stylish new look, which can perhaps be explained by Yu's remark in 2016 that "her home is located nearby; so if her clothes always stay the same, it would imply she only owns one costume - that wouldn't do!"
But if Shenmue III brings new jobs and new costumes, along with new development tools and input from different companies, can fans still expect the nostalgic touches that make this game identifiably Shenmue?
In our first meeting we asked Suzuki about the loading screens that greet the player between locations in the original games, denoting Ryo's local time, date, and whereabouts.
As we wrote then: "With technological advances making loading screens functionally obsolete, Suzuki had no plans to include them in the new game. But after musing on the topic in our interview, he noted, 'I guess they're very characteristic of Shenmue, aren't they? I will give it some proper thought.'"
Three years later it sounds like the idea took root, as Yu-san now explained: "Things like the loading screens with location names... compared to before, hardware performance has improved tremendously, so they're not really needed, but to keep that Shenmue feeling I've deliberately included some."
Yu also confirmed that the game has "kind of a mini-map." We believe a prototype of this was seen by representatives of
Shenmue 500K
during the Facebook group's August 2017 interview.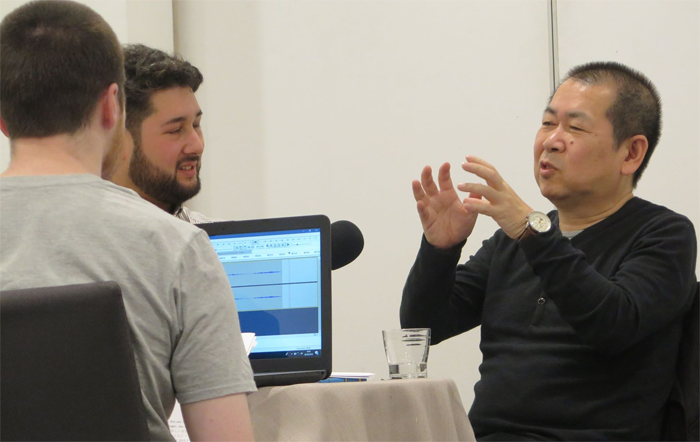 The mild-mannered director describes how he strangled the last person to ask about Shenmue IV.
​
So the game will include nods to the past that fans have requested, while also moving the series forward. So what about its future?
"The story won't reach its completion in Shenmue III, so by all means I would like to continue," said Suzuki-san.
And with that ambition ringing in our ears, we now keep hurtling toward August 27th, when everything we could ever want to know about this game will be in our grubby paws, and the future of the franchise - for better or worse - will be decided by how many hands around the world seize this moment.
Shenmue III is already available to
pre-order on PlayStation 4
from many retailers, and you can follow the
Steam page
for news on pre-purchasing the PC version.
We invite you to join the community every 3rd of the month on Shenmue Day to help spread the word on Twitter and let people know what they're missing if they haven't yet boarded the hype train. Please see
TeamYu.net
for details.
Many, many thanks to Yu Suzuki, Ys Net, Shibuya Productions, Deep Silver, Shenmue Master, Phantom River Stone, and all the wonderful fans we met in the Shenmue family at MAGIC Monaco - certainly a larger contingent than we witnessed three years ago. It's been an incredible privilege for us to participate in these interviews, and a joy to track the progress of this one-of-a-kind game over the course of its unlikely development. And thank you all for reading, sharing, and supporting this very special franchise.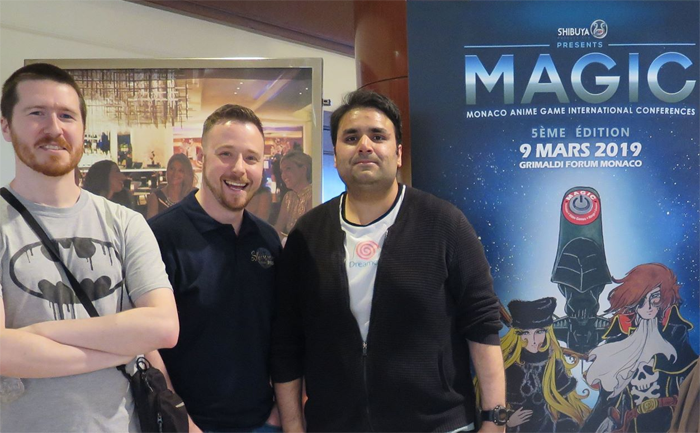 Dojo staff member Flagship (right) was one of many community members we met in Monte Carlo.
​