In light of the recent prototype that was on auction, I've been looking back at any info we have on the cut "Bailu Village" area, mostly to temper expectations that this area would still be on a build dated three months before the final build. A couple things confuse me about the shots we have of this cut area.
First, does anyone know or remember when all of the shots are from? There doesn't seem to be any source for all but the one pic of what people assume is Miao Guang Temple.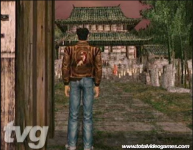 I used archive.org's Wayback Machine to find some preview pages for the game on that site, but nothing there seems to be where this shot came from.
The other shots of the lost village area that you can find online don't have this watermark on it for tvg, so I'm assuming they came from somewhere else. But where? This seems to be lost information at this point unless someone here has any memory. As a side note, any old shots on their site that do load within the year 2001 (which that auctioned proto is dated) don't use that same style of their logo watermark, so I'm guessing the shots are from 2000 at the latest.
I'm also confused why this area seems to get called Bailu Village while also referred to as Miao Village based on the lost loading cards found in the game data. If anything this seems like it was an area that extended from Langhuishan Village probably before meeting Shenhua, going by the geographical features of the area matching that look. Anything past Shenhua's house in the Bailu area wasn't as plain a field as seen in those shots, so I have doubts it's a cut area that was meant to be explored after Shenhua's house.
I'm guessing what happened is people took to calling it Bailu Village out of some sort of knowledge of where Ryo was supposed to go after the cave that ends Shenmue 2, and then years later it turns out the lost area has a name that we get from those loading screens. But the habit is stuck and it still just gets referred to as Bailu Village. Does this sound like a good guess?
I'd love to hear any thoughts!