Hi all ??,
I've received and heard members complaining about email notifications. Especially after they have edited their settings, to not receive emails.
Although that will fix future emails, you will still be getting emails from threads watched or interacted with prior to the change.
Here is how to fix it.
Go to this link:
https://www.shenmuedojo.com/forum/index.php?watched/threads

In the upper right corner there is a link/dropdown labeled
"Manage watched threads"
click this.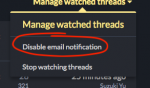 You will see two options,
"Disable email notifications"
and
"Stop watching threads"
.
Click the
"Disable..."

Click the "Proceed" and enjoy your clean inbox lifestyle. ??