Alright I thought it would be fun to play a game of Shenmue Anime Bingo!
Below I have posted a blank template that I grabbed online and made a slight edit to the free space of a Blank Bingo card, your job is to make your own predictions and fill out your own card before the first episode comes out.
I wonder if anyone well get a black out?
Also everyone wants different things from this Anime so it will be an interesting way to see who got the most predictions correctly out of the Dojo. It won't help you win but you do get Style points for outlandish predictions if they come true, make of that what you will.
Rules
1. No voice actors, these will be most likely announced before the show even airs so no guessing voice actors or animation talent in general
2. you can make changes and edits to your Bingo Card before the first episode airs
3. you can not make edits to your card if a prediction becomes true after a trailer is released if you guessed in adavnced you got a point, but you can not re-edit after the fact to gain a point, nor include predictions that are already confirmed; the earlier you fill out and post your card the better
4. Opining and Credits sequence predictions must be specified on your Bingo card. Otherwise it is considered a guess for an actual scene in an episode example if you guess Ryo plays an arcade machine it is assumed you mean in the actual show and not the opening or credits unless specified.
5. Rule 3, and 4 only exists to keep make things harder to guess since anime openings and credits are all over the place, example Tom may not be in every episode but he may be in the credits of every episode so specify this makes the game more challenging/Harder to get a Blackout/Bingo
6. you can copy predictions from other users and place them any where on your own Bingo card
7. We know that the series will mostly cover the first game, and part of the second
Rusted Gold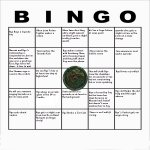 Mine is not yet finished but I wanted to get this idea posted ASAP, will finish later today then re-upload.
Edit I finished it and only made one change, I made my Joy Prediction a little more precise
Predictions I am most confident on
Ryo's Jacket getting an Origin story, my guess the last gift he got from his father.
Tom Announcing next weeks episode, its Adult Swim and they will want to go for that old school anime feel, also Tom is the most likely candidate to be a stoner and its adult swim.
Santa, I just have a gut feeling on that one, I don't why but I think we will see a Street/Mall Santa at some point.
Last edited: