Joined

Jul 23, 2018
Location
To celebrate our 20th year as a fan site, forum and community outlet, we are doing something extra extra special this xmas to cap off the end of our celebrations.
With prize support from fellow friend and member
@icuk
, we present to you, our Shenmue Dojo 20th Anniversary Xmas Bonanza!
20 Years, 20 Prizes, 1 Winner.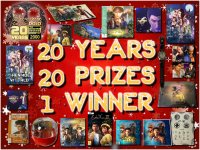 The prize list is as follows:
1. Data Discs Shenmue 1 OST
2. Lithograph Signed by Shenmue Music Composer Ryuji Iuchi
3. Data Discs Shenmue 2 OST
4. Shenmue 2 Lithographs
5. Shenmue 3 Kickstarter CD OST (supplied by
@icuk
)
6. Shenmue 3 Kickstarter Art Book (supplied by
@icuk
)
7. Shenmue 3 Kickstarter Ryo Hazuki Capsule Toy (supplied by
@icuk
)
8. White Timex Watch (supplied by
@icuk
)
9. Shenmue 3 Bandage Pack
10. Shenmue 1 & 2 Steam Code
11. Shenmue 3 Steam Code
12. Shenmue Tattoo Sheet (From Shenmue Premiere Event 1998 (supplied by
@icuk
))
13. Shenmue World Issue 1 Magazine
14. Kohji Nakazawa Poster
15. ShenWave Collection Vol. 1 CD
16. ShenWave 6 Code
17. Guilin Postcard Set
18. Eric Kelso Signed Print
19. Premium Sticker Sheet
20. Unannounced bonus Shenmue World Item
To win this stupidly huge Shenmue prize pool, you need to:
Subscribe to Ryuji Iuchi on Youtube - Ryuji is very close to 500 subscribers, and would like to attain that goal before his end of year Q/A Live Music Perfomance stream which is due to take place on the 29th December (thanks to everyone so far, Ryuji now has over 500 subs! ).
Reply to this topic with a question you would like to ask Ryuji Iuchi, and we will forward them to him for his special Q/A Live Music stream to answer (@Switch from PhantomRiverStone.com will be translating the Q/A session!)
Ryuji Iuchi's live Q&A stream has now taken place, thanks so much for all the fantastic questions!

Reply to this topic with your fondest Shenmue Memory - we have been collecting special guest's fondest memories for our first podcast which aired live on Radio SEGA over the weekend (Shenmue Dojo Show: Episode 1), these memories can range from your first experience playing the Shenmue series, an event you may have attended, a particular person you have met, maybe something that happens in the game, or anything at all really!
If you are struggling with a question for Ryuji Iuchi, maybe familarising yourself with his body of work might trigger a neat question about a song for example.
Ryuji Iuchi Shenmue 1 Music
Ryuji Iuchi Shenmue 2 Music
Ryuji Iuchi Shenmue 3 Music
Ryuji Iuchi Shenmue Online Music
Ryuji Iuchi Super Monkey Ball 2 Music
- Competition ends 31st December and the winner will be announced on 1st January 2021!
- Competition open Worldwide. Best of luck everyone!


ON BEHALF OF EVERYONE HERE AT SHENMUE DOJO, MERRY XMAS AND A HAPPY NEW YEAR!
Last edited: