Server Admin
Administrator
Since this has been requested a lot, and not everybody here has joined the Shenmue Reverse Engineers' discord server, I figured I might aswell post a quick guide.
It seems a lot of people suggest to use UE4 console commands for simple things, yet the YsNet debug menu is present in both the demo and full versions of Shenmue III and is easier to do the majority of things directly from within there, instead of executing commands manually. In order to access it:
1) Download the UE4 console unlocker from the link below:
https://framedsc.github.io/GeneralGuides/universal_ue4_consoleunlocker.htm#downloading-the-unlocker
2) Extract the archive and run IGCSInjectorUI.exe.
3) Boot the game, load into a save game.
4) For 'Process to inject into', hit select and select 'Shenmue3-Win64-Shipping.exe'. For DLL to inject, hit Browse and select UniversalUE4UnlockerDumper.dll and press 'Inject DLL'.
5) Press the tilde key (~) or ` on your keyboard to activate the UE4 console and type `enablecheats 1` and hit enter.
6) Press `,` (comma) on your keyboard or the touch pad on a DS4 controller, or alternatively, the Back button on an XBox controller to activate the debug menu.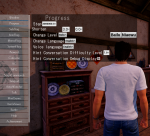 With this enabled, you can now use any of the debug features shown in the menu. You can toggle free camera by pressing T on your keyboard and to return to Ryo, press ~ (tilde key) or ` to activate the UE4 console and type `ToggleDebugCamera` and hit enter.
Pressing 1 on the keyboard will bring up a debug save/load utility.
Pressing 2 on the keyboard will bring up a debug character clothes changing utility.
Pressing L on the keyboard toggles character lighting around Ryo, used to ensure Ryo is always visible in dark areas.
There are two methods to hiding UI elements - the UE4 generic console unlocker utility has assigned the keyboard's DELETE key to this, however there is also a debug option for this within the YsNet debug menu.
Last edited: