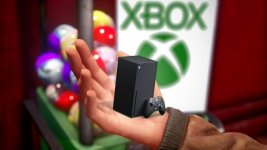 So a couple of years later and we've still not seen any news of Shenmue III on Xbox systems. I must say I am surprised, the HD Ports we release on Xbox One & of course Steam/Epic have the game digitally on PC.
With the rise in interest with the Animation recently shown it could be a decent time. Of course I'd like a Physical Edition but I'd still be happy to see it reach the console digitally.
The Best result would be for them to release a Complete Edition and include Xbox. Limited Run have announced a Complete Edition of the game with all DLC on disc... but they've been quiet on that for a while now and who knows when that may arrive?! To get the game with all the DLC on disc for PS4 you have to buy the Collector's Edition with all the extras the Complete Edition isn't available on disc otherwise - Yet! It could be possible a Standard Edition of the Complete Edition (The game on disc and case) could still be released & included Xboxers in on that.
What are your thoughts on this, I've been wondering about Shenmue 3's stance on Xbox a lot recently... however I recently got an Xbox One so that could be why
Last edited: