Hi all, one of the topics I'll be looking at on the Phantom River Stone blog in the near future is looking at some of the weird or quirky lines that occur while playing Shenmue 3 in English, and seeing how these compare to the original Japanese lines.
This couple of exchanges between Ryo and the tourist guy is one such example: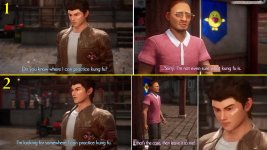 So If there is a particular English word, line or scene you've come across in Shenmue 3 that seemed out of place or weird in some way, feel free to mention below, and I'll be happy to consider covering it in the post. (A link to the example in a playthrough video would be a help, if available).