IGN Japan's Esra Krabbe has just published a new interview with Yu Suzuki that was held in mid-March at YS Net.
Yu reflects on Shenmue III, and talks about his ideas and plans for Shenmue IV, if it is able to be made (Yu sounds optimistic he'll have the chance, although there is no concrete confirmation it will happen). He also talks a little about what he'd like to do outside of Shenmue.
Link to intervew (Japanese)
https://jp.ign.com/shenmue-3/43425/interview/iii
Update: an English translation is now ready.
Yu Suzuki Interview: Reflecting on Shenmue III and Future Plans [IGN Japan] | Translation
https://www.phantomriverstone.com/2020/04/yu-suzuki-interview-reflecting-on.html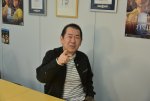 Last edited: