Joined

Jul 30, 2018
Location
Some of you may remember, way back in 2012 that I completed a project I had been working on for many years, the Shenmue II Character Database. As the names and profiles of a large majority of the game's 700+ characters were only available via Japanese guidebooks, this was truly a mammoth undertaking to obtain and translate all the information, and I would not have been able to do it without the help of many in the Dojo community:
More substantial content will be coming, I can assure you; but I just wanted to share on here a project I completed in 2012 (but had been working on since about 2003!) – the Shenmue II Charac…
shenmusings.wordpress.com
Today, I am proud to finally release the
Shenmue III Character Database
, which had the similar aim of cataloguing all 300+ characters in the game.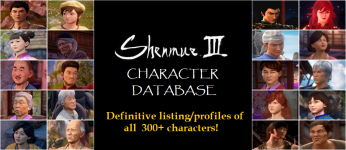 You can find the link to download the database, as well as me detailing the creation of it and the challenges faced along the way, in my blog post at Shenmusings:
https://shenmusings.wordpress.com/2021/08/08/shenmue-iii-character-database-release-and-making-of/
I would just like to thank
@LemonHaze
,
@SalsaShark
,
@Switch
and
@Peter
, without which this project would not have been possible. Whether directly or not, you have helped ensure the completion of this project and I am very grateful for that.
@Peter
especially, as your Let's Play of Shenmue III on YouTube proved invaluable for obtaining screenshots of a lot of the characters!
And
@LemonHaze
, your providing of the game's internal character list, as well as ripped images of the Niaowu Shop cards, proved extremely useful as well.
I am fairly certain I have not missed any of the characters, as I ensured to include the more obscure ones who only appear in certain side quests or events, but please let me know if I have!
The game itself has proved divisive but I hope I have contributed something to chronicling the vast world that is the Shenmue universe, as the fantastic Suka Pass app by
@Switch
and
@James Brown
has done.
Thank you and enjoy the database :)