Well I tried the demos and I think I agree with you, 5LR seems more like my cup of tea. I'm playing on PC so unfortunately I don't get the upgraded visual assets/engine of the Xbone/PS4 versions, and tbh I don't like all the bloom, but w/e I can adjust. Color saturation is also too low by default imo, but thankfully that's something you can crank with an AMD or Nvidia GPU. 6 is quite a lot better looking imo. Really, it's shockingly pretty. it's something I've never noticed from screenshots.

But ultimately, as good as it feels to play (it really does feel good)... I dunno, it's kind of weird to say, but I feel like it actually feels a little TOO buttoned down and streamlined? 5LR just feels faster, looser, and a little more raw. It just feels more like a DOA game, I guess? And the VF characters are a big draw, too. Also, call me shallow but... I couldn't get over Kasumi and Ayane having smaller boobs in 6?? Or at least it looks that way to me. It just seems wrong...

But yeah, this is looking like a great overall package. I just wanna wait for a sale since I'm a cheap bastard and it's been out for several years now.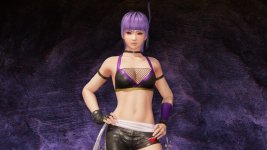 Very cool!
I didn't have any graphical issues with either but granted I'm mainly playing them on Xbox Series and have played them on XB1 before that. Also when I tried them on PS5(and PS4 as well)they both look really good. With 5 not looking as good I just keep in mind that it's an Xbox 360/PS3 era title from 2012 whereas 6 is from 2019. 6 isn't MK11 when it comes to graphics(or even game quality)but it looks really nice regardless.
6 is streamlined with the fatal blow button being added, which personally doesn't bother me but I've heard complaints from people that enjoy playing competitively. For me having Pai Chan and Sarah was a huge bonus, even so much so to the point that I didn't feel the need to bother returning to VF at the time I started playing these. Since then I've come around to giving VF another chance on the recommendation of a dojo member that has good taste, and I've learned to enjoy VF again for the first time since the early 90s, but I still prefer DOA 5 over VF5 overall, and playing with the 2 VF characters is one of the big selling points on DOA5 for me. The more I think about it DOA5LR may be my favorite fighting game outside of the Mortal Kombat franchise. Kasumi and Ayane were covered up more in 6 on their default costumes more than the previous games, its not so much a boob size issue. Both DOA6 and MK11 released in the same month and had complaints about them allegedly toning down the sex appeal to please the feminist liberals but in reality the characters in both games still have skin tight clothes, a womans figure and features and there's plenty of sex appeal costumes in DOA 6 outside of the standard costumes. For me, I don't care one way or the other on whether the costumes are more or less revealing, as long as they fit the characters personality. So, no ridiculous lingerie, cheerleader, football or santa costumes for me. As you can see in the photo, plenty of skin showing in DOA6.
I'm curious to know what you think of either game, once you get into the full swing of playing the complete versions.