Joined

Feb 3, 2019
Location
Favourite title

Shenmue II
Currently playing

Tekken 7 (always Tekken 7)
PSN

danmann861
Steam

danielmann861
Thanks to TwiceOnSundays over at PSN Profiles forums for finding these and sharing them.
Here's the complete Shenmue III trophy roster. Story trophies are hidden so no fear for spoilers.
Game has 37 base trophies (37?) and a handful of DLC trophies as well.
Looks pretty reasonable as a whole. Getting all fish just depends on whether lures or weather effect what type of fish we catch. Looks like a grind, but doable with a bit of save scumming.
Full Roster
----------------------------------------------------
Platinum - Shenmue Hero
Bronze - Wild Wild Plant Hoarder
Collect all Herbs in Bailu
Bronze - Wild Wild Plant Master
Collect all Herbs in Niaowu
Silver - Expert Herbalist
Collected all available Herbs
Bronze - Rumored Rodman
Fished in all spots in Bailu
Bronze - Rumored Fisherman
Fished in all spots in Niaowu
Silver - Adept Angler
Fished in all available spots
Gold - Angler Extraordinaire
Caught 1,0000 fish
Bronze - Fat Cat
Owned over 1000 yuan
Bronze - Village Tycoon
Owned over 5,000 yuan
Silver - City Magnate
Owned over 10,000 yuan
Bronze - Novice Gambler
Owned over 20,000 tokens
Silver - Experienced Gambler
Owned over 50,000 tokens
Gold- King of Gamblers
Owned over 500,000 tokens
Bronze - Regular Shopper
Bought 10 items at a store
Silver - Super Shopper
Bought 100 items at a store
Gold - Shopkeeper
Bought 1,000 items at a store
Bronze - Capsule Fan
Collected 5 series of capsule toys
Silver - Capsule Star
Collected 15 series of capsule toys
Gold - Capsule Hero
Collected all series of capsule toys
Hidden
Hidden
Bronze - Good Karma
Completed all subquests
Hidden
Gold - Technique Master
Collected all skill books
Silver - Battle Master
Won against 36 people in the arena
Silver - High Score Master
Got the high score in all minigames
Silver - Chopping Master
Split 1,000 logs of wood
---------------------------------------------------------------------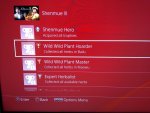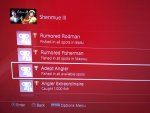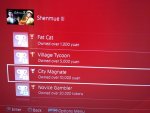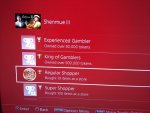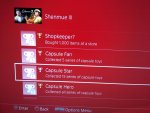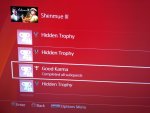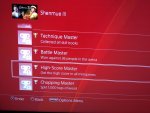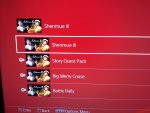 Last edited: