The project team is excited to announce an unofficial fan-made Shenmue Passport app:
Suka Pass
!
27th August 2019 update:
Available NOW for iOS and Android devices!
Download link:
https://www.sukapass.com/p/download-page.html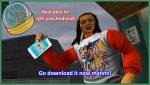 Check out the trailer below, crafted by Jibmue!
Project website:
https://www.sukapass.com/
Twitter:
https://twitter.com/sukapass
Facebook:
https://www.facebook.com/SukaPass
The Suka Pass app is brought to you by a team of community members from Phantom River Stone, SkillJim, Shenmue Forever & Shenmue Dojo. We hope you enjoy it.
Last edited: